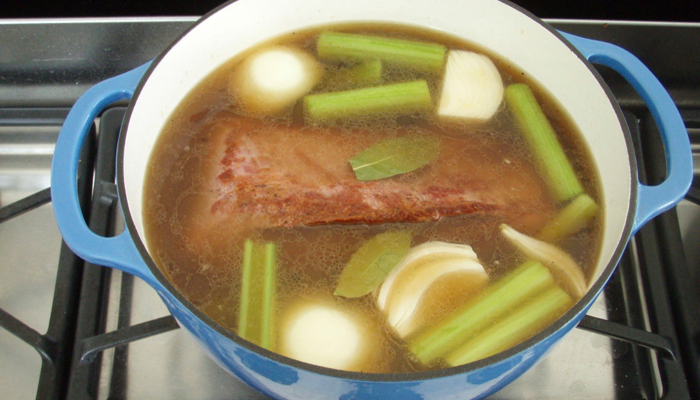 I watched Giada make this on TV and thought it looked interesting and something I could make. With Google's help, I figure that it translates to "Boiled Mix". That doesn't sound very appetizing. She serves it with a gorgonzola sauce and a spicy salsa verde. I like it with horseradish.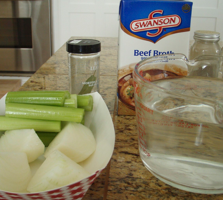 4 pounds beef brisket or top round (or corned beef)
Salt and freshly ground pepper
4 cups beef stock or broth
About 4 cups water, enough to cover the beef
2 onions, peeled and quartered
4 celery stalks, cut in half
1 bay leaf
4 carrots, peeled and cut into thirds
1 pound small boiling potatoes
1/4 teaspoon salt
1/2 teaspoon freshly ground black pepper
Heat a large braising pot over medium-high heat. Season the beef with salt and pepper. Sear the beef, browning it on both sides, about 5 minutes a side.
Carefully add the stock and enough water to just cover the meat. Add the onion, celery, and bay leaf. Bring the liquid to a boil. Lower the heat to a simmer, cover, and cook for 1 hour.
Add the carrots and potatoes and cook until the meat is
tender, about another hour.
Carefully lift out the meat, place on a cutting board, and
cover with foil.
Strain the vegetables from the stock. Discard the celery,
onion, and bay leaf.
Arrange the carrots and potatoes on a platter and cover with foil to keep warm. Continue cooking the stock uncovered over medium heat until reduced by half, about 20 minutes.
Meanwhile, slice the meat against the grain, on an angle. Arrange the meat alongside the carrots and potatoes on the platter.
When the stock has reduced, season with salt and pepper, to taste, and transfer to a gravy dish