This variation on beef stew turned out great. I made this dish last night and everyone had second helpings. That's a good sign.
It's not a stew in the traditional American style. The only vegetable is onion. I served it over buttered egg noodles (no-yokes) although the recipe didn't call for it. My local grocery store didn't have any Flemish (or Belgian) beer so I substituted a medium brown beer imported from England. I might experiment with a darker beer next time.
I cooked this in a cast iron enameled dutch oven. In my kitchen, I like to have all the ingredients prepared and measured before the cooktop even gets warm.
Thinly slice 1 very large onion. I use my mandolin(e) slicer to slice the onion into very evenly cut slices (circles). I set the dial to 4 (mm?), which is 1/6 inch.
Crush 3 to 4 garlic cloves.
2 1/4 pounds (1 kg) beef stew meat, cut into 1 1/2 inch (38 mm) pieces. The original recipe called for the more expensive tenderloin cut. I used the cheaper stew meat from my local grocer.
1/3 cup (80 ml) all-purpose flour.
1 quart (1 L) beef broth. I use the kind that comes in a box.
The original recipe calls for 1 cup Flemish beer. My local grocery
had nothing close, especially in single-bottles. I used the whole
bottle of the beer pictured to the right, 1 pint (475 ml).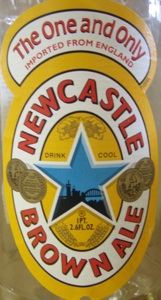 1/4 cup (60 ml) tomato paste.
3 tablespoons fresh type, chopped.
2 tablespoons brown sugar, packed.
4 tablespoons fresh parsley, chopped.
1/2 pound (225 gm) bacon, cut into 1 inch size pieces.
Cook the bacon in the heavy pot until crisp, about 5 minutes. Transfer the bacon to some paper towels to drain. Keep the bacon renderings in the pot.
Sprinkle the beef with salt and pepper. Place the flour in a large bowl. Toss meat in flour, shaking off the excess. Reserve the remaining flour in the bowl.
Reheat the bacon renderings to medium-high and brown the beef. You should do this in two batches as to not crowd the pot. Cook until browned, stirring frequently, about 5 minutes each batch. Transfer the cooked meat to another bowl.
Add onion and garlic to the pot over medium-high heat and saute until tender, about 5 minutes. Add remaining flour and stir 1 minute.
Mix in broth, beer, tomato paste, 2 tablespoons of thyme, and the brown sugar. Reduce to medium and simmer until mixture thickens, scraping browned bits, about 15 – 25 minutes.
Add beef, 1 tablespoon thyme and 3 tablespoons parsley. Simmer until beef is cooked as desired, about five minutes for medium-rare.
After the stew has reduced by half (or more). Season with salt and pepper, to taste. Use good sea salt and fresh cracked pepper.
Serve over buttered egg noodles tossed in parsley. Top with bacon bits.