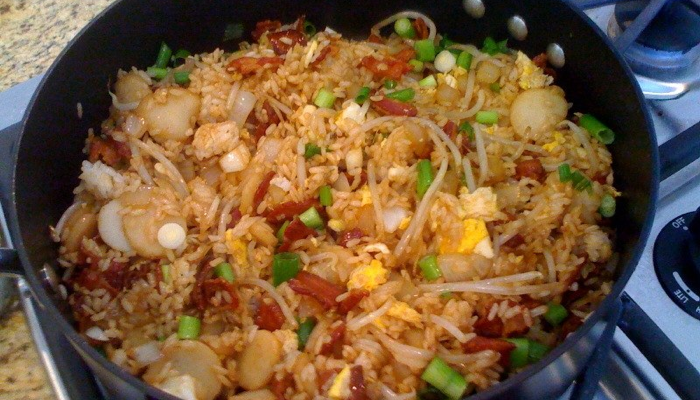 This one is easy to personalize, but the bacon is mandatory.
12 ounces uncooked bacon
4 ounces leftover (cooked) chicken, pork, etc. – optional
2 eggs
1 medium yellow onion, chopped
1 large carrot
1 can sliced water chestnuts – optional
2 cups bean sprouts
1/4 cup soy sauce
3 cups cooked (2 cups uncooked) white rice
6 green onions
Start cooking the rice. I use a rice cooker because I love rice.
Chop the onion. Shred the carrot with a large grater. Rinse the bean sprouts. Slice the green onions. Keep all these ingredients separate.
Rinse and drain the water chestnuts. Chop the larger pieces in half. Save the empty can for the bacon renderings
Cut the bacon into one inch strips and fry in a big frying pan. I recommend a 20 inch pan with 3 inch sides. Remove the bacon and drain the grease from the pan, reserving it for cooking the next ingredients. HINT: Use the can from the water chestnuts to hold your bacon grease.
Fry the vegetables in a couple tablespoons of bacon grease. Start with the hardest vegetables. The bean sprouts are last on my list. Do not add the green onions in this step. TRY: add different vegetables or (yuck) mushrooms.
Gently mix, not scramble, the egg and fry it in a tablespoon of the bacon grease. I perform this step in a smaller pan. Cook the eggs over hard, then use the spatula to cut it into small pieces. The goal is NOT to scramble the eggs.
Add the cooked rice to the frying pan with the vegetables. Add soy sauce and mix. Add bacon and eggs and mix gently. Garnish with green onions. HINT: If there is any left, it tastes even better the next day. It microwaves well.
ALTERNATIVES
Heart Attack Fried Rice – Omit the other 'meats' and get a whole pound of bacon. How about three eggs?
New Jersey Fried Rice – Substitute all the meats for 8 ounces (1/2 package) Taylor Ham, cubed. It did not produce any leftover grease, which sounds good, but there wasn't anything to cook the onions and other ingredients in. In this culinary emergency, I used sesame oil to fry the vegetables.
Arbitrated Fried Rice – Use 12 ounces (uncooked) think-slice smoked bacon from the butcher for this alternative. Thick cut bacon cuts more easily into 1 inch pieces, and tasted much better than the pre-packaged kind. They were even prettier when fried. Add 1/2 cup of semi-cooked green peas from frozen; canned peas are gross. "Use what you have," is a good motto for this recipe