I prepared this dish in my apple ceramic baker. The lid has to be soaked for 30 minutes before baking. It keeps everything moist. The instructions included with the ceramic barker included a recipe for pork chops. The original recipe called for cream of mushroom soup, which I exchanged for cream of chicken.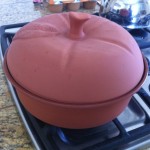 3-4 large pork chops
1 1/2 cup parboiled rice
1 can cream of chicken soup
1 cup milk
1/2 onion, chopped
1/4 teaspoon salt
1/4 teaspoon pepper
1/4 teaspoon garlic powder
1/4 teaspoon tarragon
Make an even layer of rice in the bottom of the baker. Place pork chops on top. In mixing bowl, combine soup mix and milk. Add onions, salt, pepper, garlic powder, and tarragon. Pour mix over pork chops and rice. Cover with pre-soaked lid for one hour at 350 degrees.
Nom Nom!