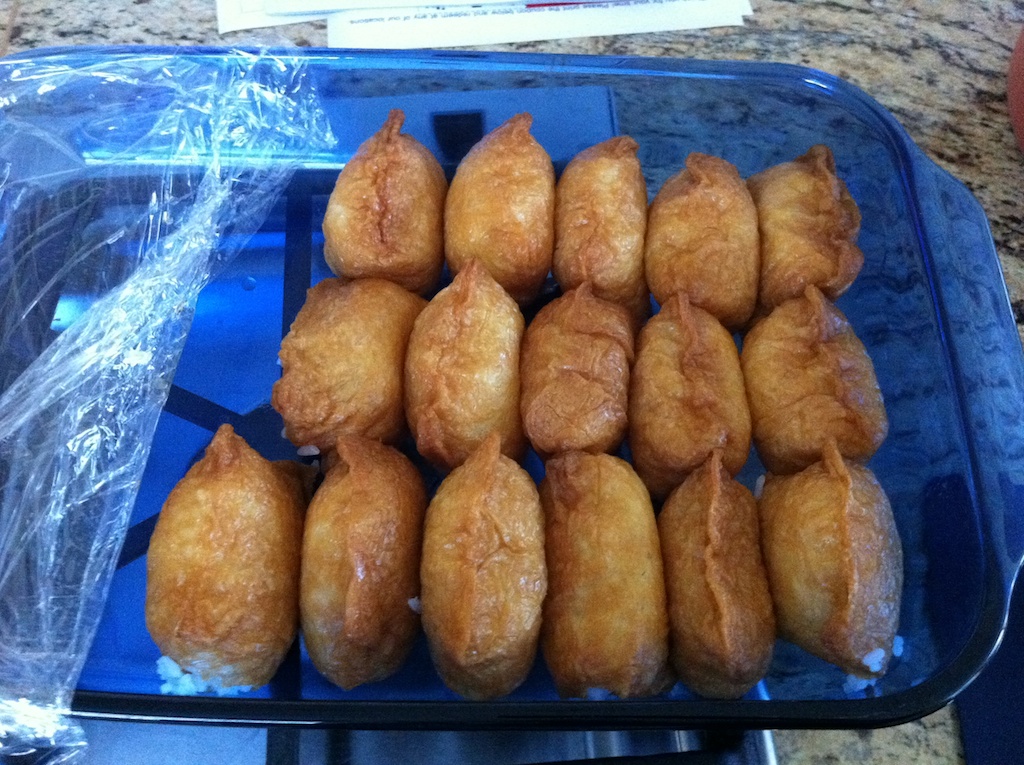 I'm not the biggest fan of sushi. I do prefer my fish cooked. But 20 years ago, I was introduced to Inari. Inari is only (only!) rice mixed with rice vinegar and wrapped in a envelope of fried bean curd. Let me just say, if you've never had sushi, you should start here. Inari is the gateway sushi.
In the late nineties, I became friends with a Japanese exchange student that was working in the same hospital pharmacy. One day (at my request), she made the whole crew a big platter of home-made Inari. I was in heaven. She kindly wrote the recipe down, but I don't read Japanese and never had an opportunity to make this delicious dish.
Flash forward to 2011… I'm in the grocery store, and in the 'Asian' isle I found this a can of this…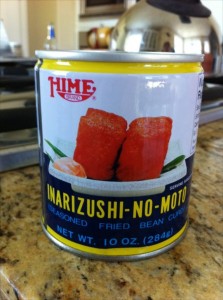 The can included a recipe, which I slightly modified.
2 cups rice – I use calrose and I cook it in a rice cooker.
1/3 cup rice vinegar
1 teaspoon Mirin
1 can of Inarizushi-no-moto
Drain the liquid from the can and try to get the friend bean curds out of the can without cutting yourself or damaging the delicate wrappers.
In a non-metallic bowl, mix the rice, vinegar and Mirin. It's okay if it seems a little wet, it keeps the wraps moist the next day. Let this cool in the refrigerator for a while, maybe an hour.
The Inari wrappers remind me of English muffins. They're not exactly pre-cut, but they do split easily with some care and attention. Open one Inari wrapper and hold it in your palm. Stuff 2-3 tablespoons of rice into the pouch and compress. Try not to squeeze the liquid out, just compress.
When the wrappers are about full (3/4) fold the edges over and place up-side-down.
I eat some of them immediately (duh). I like them with some hot wasabi and a little soy sauce.
Nom Nom!