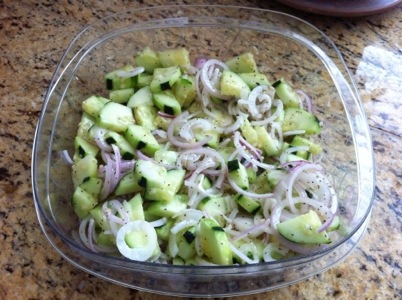 I use my mandolin to slice the cucumber and onion. I like the uniform slices and it's ability to slice very thin.
Wash the cucumber, to me, that means rubbing it vigorously under cold running water. Peel the cucumber lengthwise leaving thin strips of skin behind. I do this for looks and flavor. Then, with the tip of a pairing knife, cut the cucumber down the middle starting one inch from the end, not slicing all the way through. Roll the cucumber a quarter turn and repeat the cut. Set the mandolin to 1/4 inch. Very carefully slice the cucumber.
Peel the onions and cut the top and bottom from them. Cut them once down the middle, then load it together on the spikes of your mandolin's safety handle. Set the mandolin to 1/8 inch. Very carefully slice the onions.
2-3 medium cucumbers
2 medium red onions
1 teaspoon celery seed
4 tablespoons extra virgin olive oil
1 tablespoon white vinegar
1 tablespoon apple cider vinegar
1 tablespoon sweet rice vinegar
1 teaspoon Dijon style mustard
1 teaspoon sea salt
2-3 garlic cloves, finely minced or put through a garlic press
1-In a medium size bowl combine cucumber and red onion slices.
2- In a small bowl combine the rest of the ingredients. Pour over cucumber and onion mixture and toss to coat. Chill for a few hours. Mix right before serving and enjoy.
Serve sprinkled with feta crumbles. Sprinkle with red pepper flakes for added heat.